GESPETFOOD has the
best 100% natural snacks
and treats for your dog.
Only from animal protein, without added chemicals and without intermediaries, directly from our family to yours, guaranteeing the quality and preservation of the product.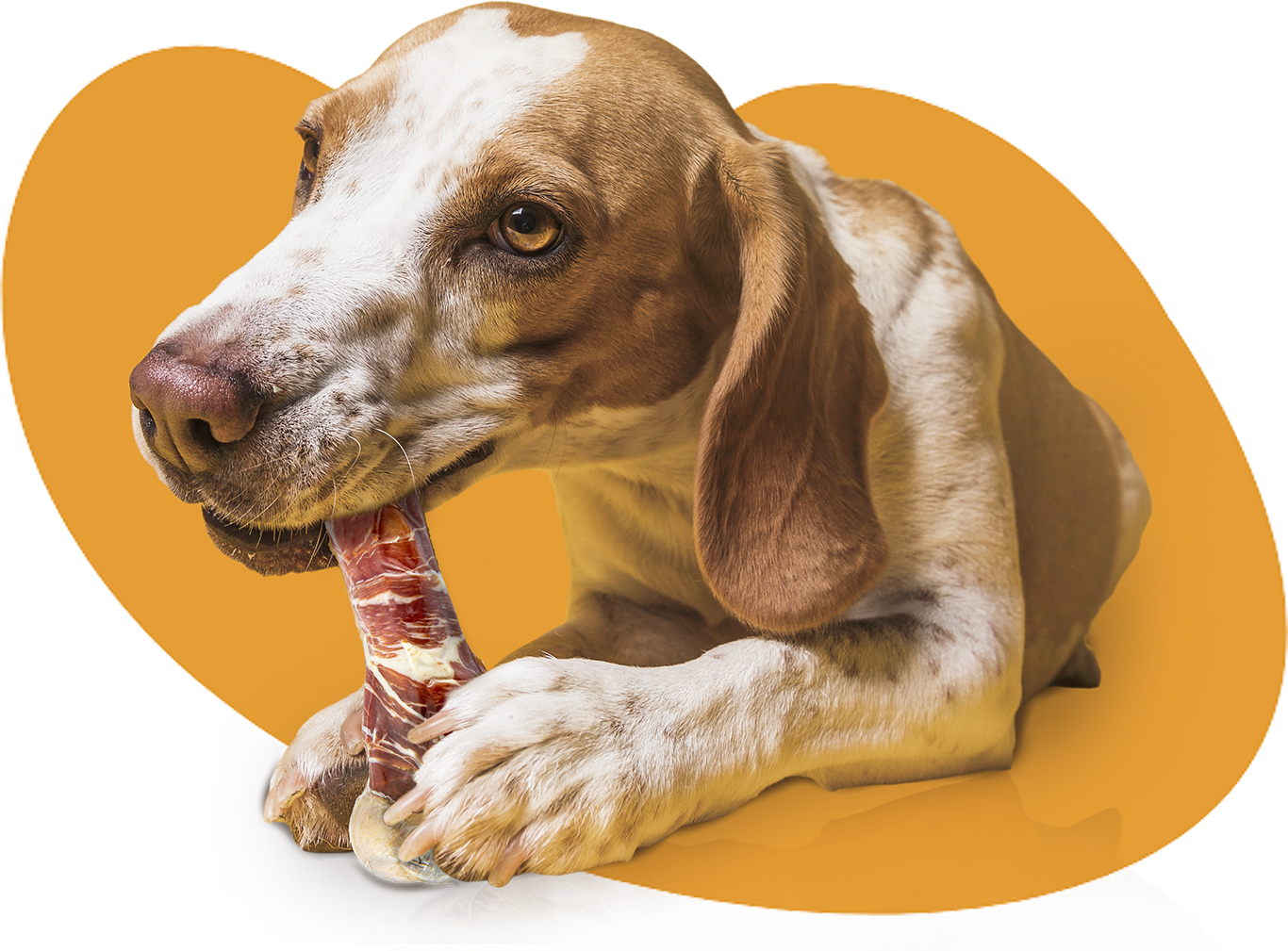 What is your dog's favorite treat?
Happy Customers!
Anonymous.
It has arrived in the established time. Vacuum packed. My dog, a 10kg Andalusian winemaker, loved it. The downside is that they are packaged two by two and of course you have to spend the second in 3 or 4 days maximum. I only wanted to give him one a week, in this way I am forced to give him two. The size of the bones are medium. My dog ​​has eaten it. A great purchase, I will repeat for sure.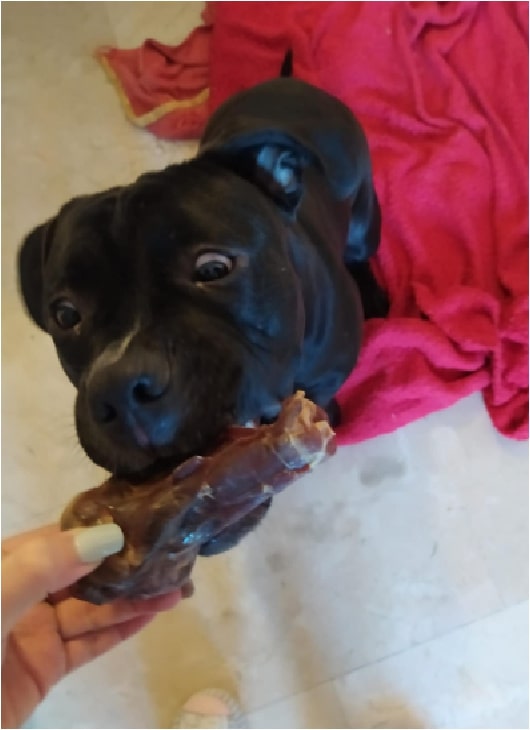 Jenn.
Great, I made a great purchase for the shelter where I collaborate and all the dogs were delighted. Shipping well and especially the company that sells them very attentive. They called me personally to manage the delivery due to a problem that occurred. I am very grateful.
Ivana C.
My dog ​​loves them. They are big dogs.
Simone V.
Yes, they could be smaller in size, but what does it matter, with kitchen scissors they are cut into pieces and thus they serve me perfect for training. I always carry some in my pockets, they don't stain, they don't make crumbs and most importantly, my dog ​​loves them!
Practical and rich!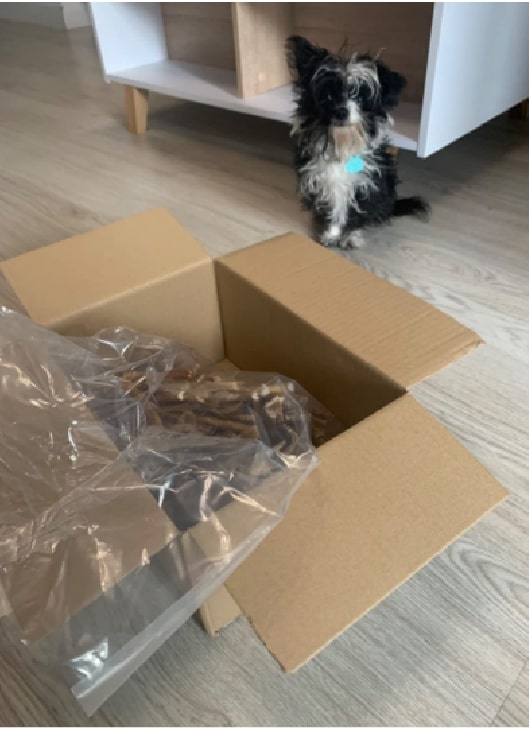 Lidia T.
My dogs love it !!!
Anonymous.
Received ahead of schedule, the snaks are perfectly vacuum packed.
The photos are deceiving, it seems that the snaks are smaller, but when I received the package I was pleasantly surprised by the quantity and size that is ideal for my Dachshund.
Also, the smell is not unpleasant, my dog ​​loves them and without a doubt when I finish them I will buy them again.
HIGHLY RECOMMENDED TO MAINTAIN PERFECT ORAL HYGIENE.
Isabel.
My dog ​​loves them and they are natural without cereals that cause allergies, although it would be better if they were smaller since I give it to her to train her and it costs a little to break them.
Good natural snack!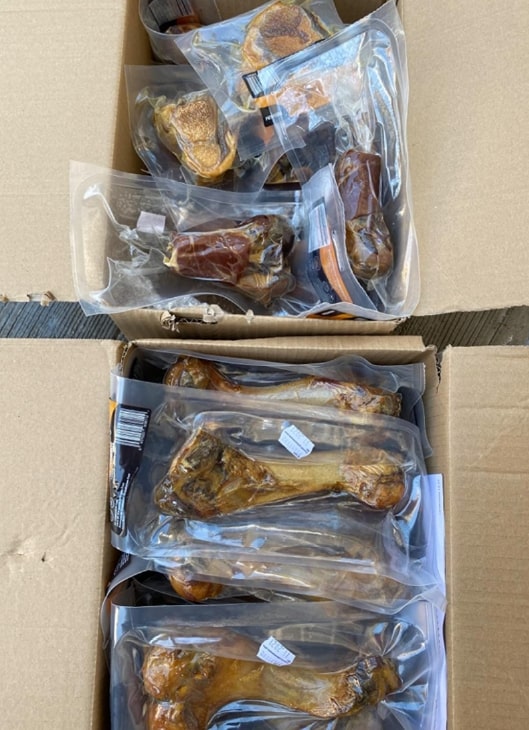 Alex W.
It's great. Finally a bone that lasts for my dog. He usually eats them in a matter of seconds, but this one looks like he likes it. A good time has been with him! And it seems that few pieces come, but it is a kilo of bones. He's going to be entertained every Christmas. Pretty impressive for how cheap they are!
They last a long time and you can see that dogs like them.
Korku.
My dog ​​loves that it is the important thing, very well packaged.
Cristina.
The order arrived very fast and looking better than I imagined.
They come a lot of good quality vacuum sealed strips.
I find it a very good snack for large dogs like mine. I would not recommend it for small dogs as biting it can splinter and hurt those with smaller mouths.
I think it is a much healthier alternative to traditional sweets, and although it may be a bit exotic (because it is natural meat) my dog ​​has loved them.
Good quality dog ​​snacks.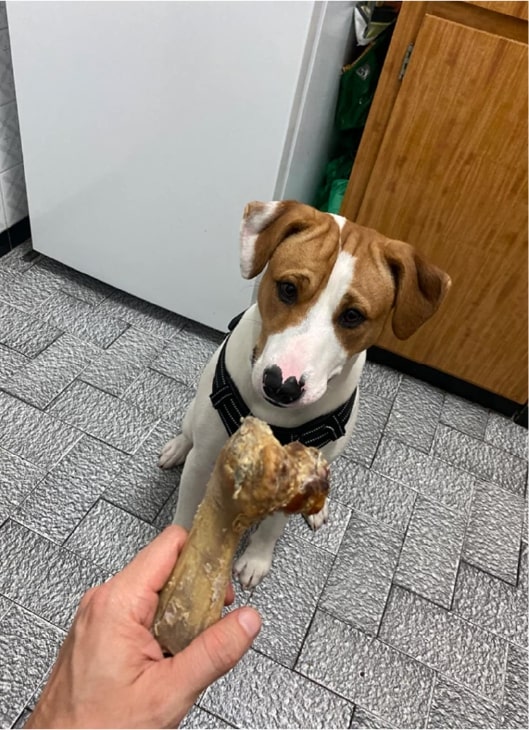 Guillermo.
It surprises you when you see it as it comes with a lot of snacks. My dogs love it, the big one takes two bites and the little ones lick it. It is a product that I would buy it again without a doubt. The delivery is impeccable.
A lot of quantity and fast delivery.
Mario.
I have several dogs and they all loved it. So far I have been using other types of snacks, Maybe not so healthy, but these are from this brand they look very good, and they are much healthier.
Very healthy.
Mirian B.
Very well packaged, with large quantity inside, much better than what the picture shows.
The smell when unpacking is of a very natural product.
My dog ​​was expectant, waiting for his treats.
I'm sure I will buy this product again, totally recommended.
Very good quality and quantity.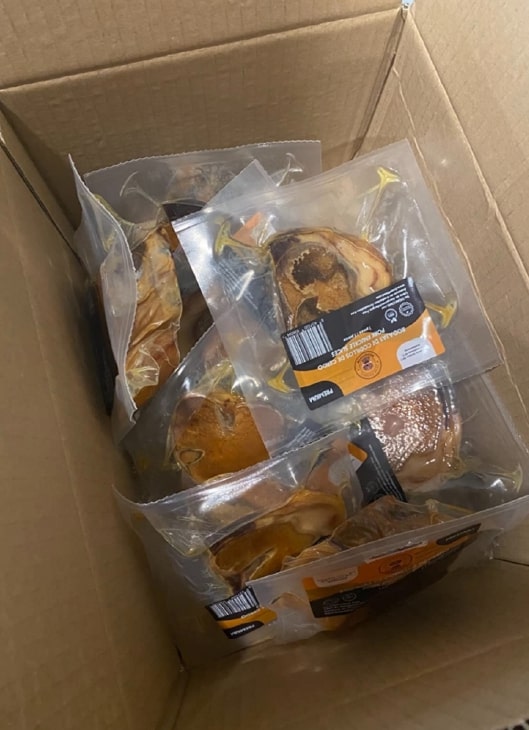 Isabel.
My dog ​​loves them, I give her one every night after dinner and as soon as I pick it up, she runs to her bed to eat it quietly and it lasts for a long time. A good buy as it is 100% natural.
100% natural product for dogs.
Alba.
One of my dogs is a puppy and I was not sure if I could eat it in case when I bit it it would get pointed traces, as it happens with some other treats for dogs. But none of that. There is no danger.
The only thing that if you have small breed dogs like me, there is a piece that is very large, but it can be split without problem and it lasts longer.
My dogs love it! Totally recommendable.
Bring more quantity than it seems.
Antonio.
My dog ​​(4-year-old German shepherd) loves it. There are pieces of different sizes, it doesn't smell bad. I find it somewhat expensive at the price.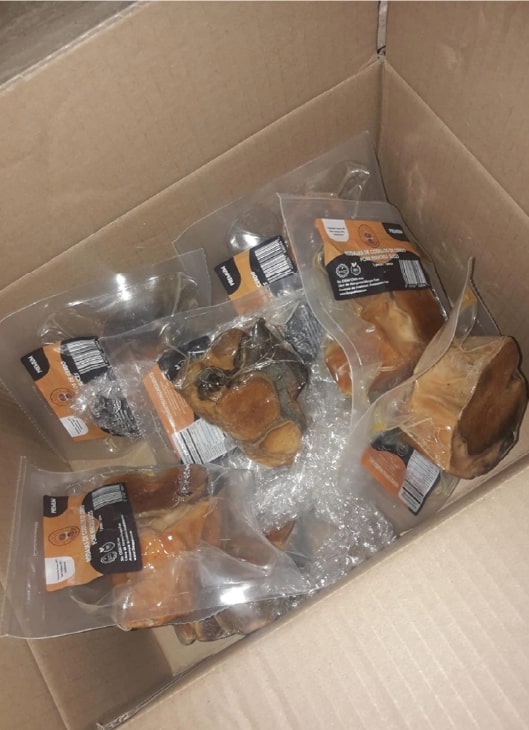 Marta F.
My dog ​​loved it !! It does not leave an odor on the hair after eating it as with other snacks. We will certainly repeat.
Nerea.
My golden loves them, when he hears the bag, he comes running to get one.
Isa.
My dog ​​loves them like all the products we have bought from this brand. I had a problem with the delivery but the company contacted me and they were very attentive and pending until everything was resolved. Great treatment received and good natural product.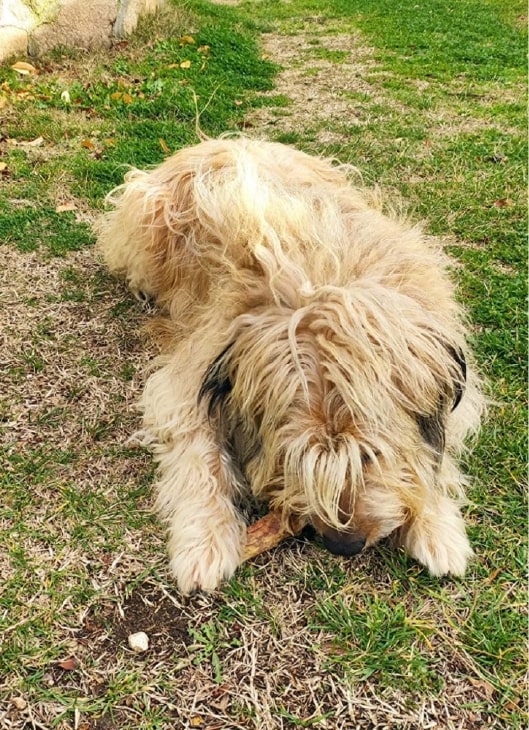 Isabel.
My dog ​​loves them when I give it to her, she goes to her corner so that no one bothers her. My brother's dog has also loved it and abun friend, without a doubt we will repeat.
Natural chuche that they love.
I Cristina.
The taste if my dog ​​and her friends like it, the downside I put is the size, they are very large and I give it to her as a reward when she obeys.
Villora.
My dog ​​loves them. I always buy him ham bones but this time I wanted to try these ham hocks because they have more parts that are not as hard as normal bone. When the bell rings and my dog ​​sees the delivery man with a big box you know They are bones to him. They are very cheap with the discount coupons.
They are perfect for dogs.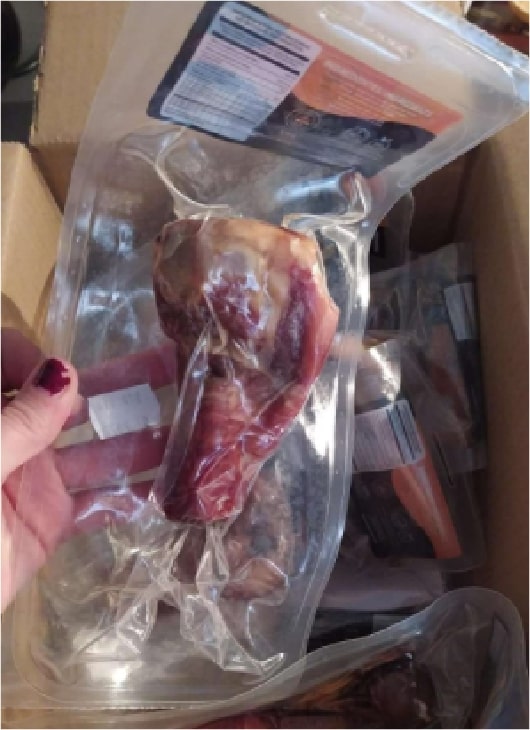 Mercedes.
My dogs love them. They devour them and have a good time entertaining them. They don't feel bad like other snacks. Of course, it is important to leave them plenty of water, they make them very thirsty (like any snack of this type). I have already asked twice and keep repeating. It arrives earlier than expected and the seller is very friendly.
Elena,
Delighted with the product, better than I imagined. All packages are vacuum packed for ease of storage and give them little by little to your dog. He loved the first bone we gave him. I will buy more times for sure. 100% recommendable.
Very good product for dogs.
Laura GH.
I was surprised by the size and quantity of the dog bones. My dog ​​goes crazy when she smells them and they really do smell like ham, she keeps herself entertained for quite a long time. They come vacuum packed and that is a plus point, I am very satisfied with the purchase so I will repeat without a doubt.
My dog loves it.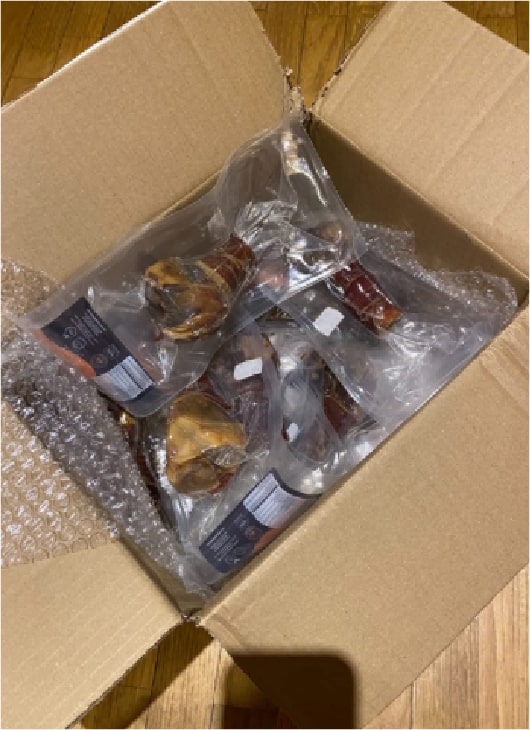 Linda E.
My two Greyhounds really liked it. I will ask again.
Good quality.
Romar S.
My dog ​​loves chicken nuggets. The only "but" is that they are very big, but I cut them in half and solved.
Cristina.
The product arrived very fast and better than I thought. All the bones are vacuum sealed and have a delicious smell, you can tell that they are natural bones.
My dog ​​loved them from the first second because being big, they last a long time. They serve both as a snack and as a toy to nibble on and hide.
I am delighted with the quality of these bones.
My dog ​​loved it.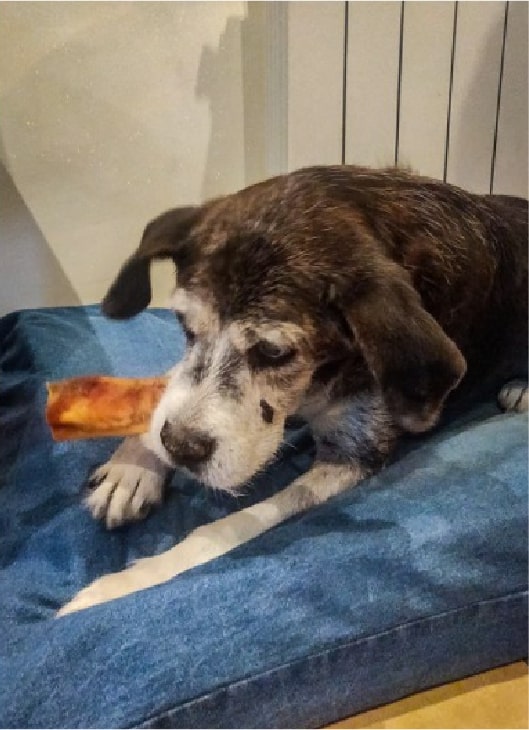 Miriam F.
The truth has surprised me, the product that has arrived is much better than I expected, there are 10 sweets of a fairly large size (pig ears for dogs), my dog ​​liked it a lot. I will buy them again.
Much better than the photos.
Manuel.
Perfect just what I expected thanks.
Mario D.
I was surprised by the size it is not common in this type of snack for dogs. My dog ​​liked them a lot.
Profitable purchase of pig ears for dogs.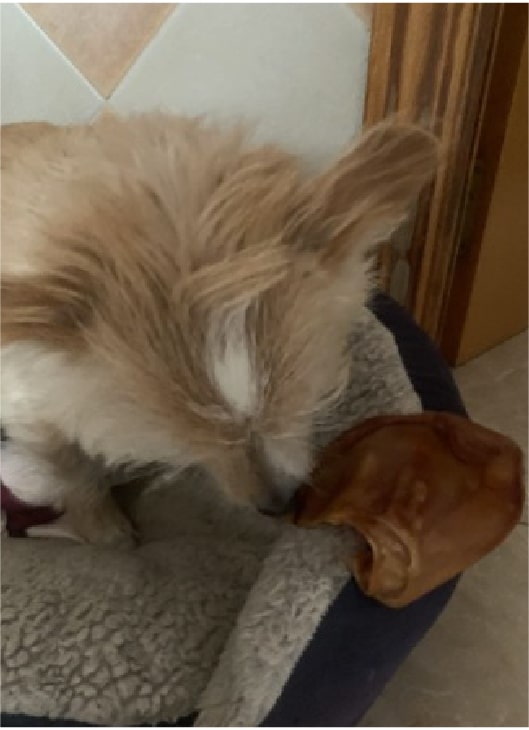 Elena.
Excellent product. My dogs love it and it has improved their teeth, their teeth are free of tartar!
Very good dog product.
Begoña B.
I was hoping they were a little smaller, but I did not think they were so good, both in the packaging and the quantity, I am happy with the order.
Satisfaction with sent dog pig humbers.
Products manufactured in Spain for Pets